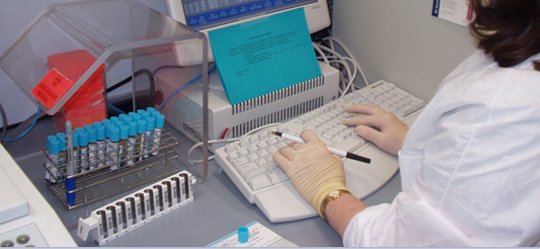 The Laboratory Department at Civista Medical Center produces accurate, reliable and timely test results in order to aide physicians in diagnosing and treating patients. Our highly qualified professional and technical staff are committed to putting customers' needs first.

We continuously strive to improve service by evaluating and developing new testing and new technology to meet physicians' needs. Additionally, our pathology team uses laboratory information to improve patient care outcomes and reduce costs.

Our Laboratory is fully accredited by the College of American Pathologists and the American Association of Blood Banks and meets all standards of the Joint Commission on Accreditation of Healthcare Organizations. We provide the following comprehensive clinical and anatomical pathology services:

• Clinical Chemistry
• Urinalysis
• Clinical Hematology
• Coagulation
• Microbiology
• Transfusion Services
• Anatomic & Surgical Pathology
• Cytology

In addition to providing laboratory testing for our inpatients, our Outpatient Laboratory is open from 7:30 am to 5:00 pm, Monday-Friday, and 8:00 am to 12:00 pm on Saturday. To make an appointment please call 301-609-4413. The Outpatient Laboratory is located on the ground floor of Civista Medical Center.

Phone:
301-609-4270
Hours:

24 hours a day 7 days a week

Outpatient Laboratory available
7:30 am - 5:00 pm M-F
8:00 am - 12:00 pm on Saturday
To make an appointment
Please call 301-609-4413
Kausha Patel, MD
Medical Director, Laboratory Services