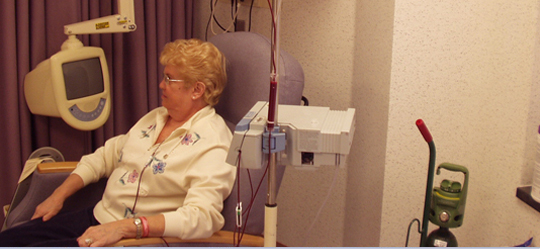 Location, Amenities, and Hours
The Civista Infusion Center is conveniently located on the first floor of Civista Medical Center in La Plata next to One North. We provide a relaxed, comfortable setting for the administration of therapies. Patients also have access to television and a DVD/VCR for their viewing pleasure. Center hours are Monday—Friday, 8:00 am to 4:30 pm by appointment.
Infusion Therapies
Infusion therapies today include the traditional therapies along with new, innovative techniques that utilize intravenous lines for the delivery of the product. We work with a diverse patient population including:
• Cancer patients undergoing chemotherapy
• Individuals taking medication for pain management
• Patients requiring intravenous antibiotics
• Patients requiring pamidronate for bone loss
• Neuro-patients requiring Solu-Medrol
• IVIG for immunosuppression
• Therapeutic phlebotomies
• Blood transfusions
• Vascular access device care and blood draw
• Other patients requiring intravenous treatments
Appointments
A physician's order is needed prior to scheduling an appointment. To schedule an appointment please call 301-609-4039. Fax number is 301-934-1798. Prior lab work done within 24-72 hours can be faxed or sent with the patient to their appointment.